IC WDM GIGE TIS - Device Driver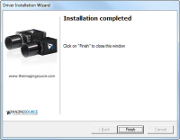 The driver IC WDM GIGE TIS embeds all GigE astronomy cameras, manufactured by The Imaging Source, into Windows.
By deploying this driver, all astronomy cameras are compatible to DirectX.
Consequently, all The Imaging Source astronomy cameras can be used with all astro-photography software that is compatible to DirectX.
Requirements
Intel Core i3 or similar, 2 GB RAM
GigE (1000 Mbit/s) network controller
Graphics card with 24 or 32 bit
Windows 7 (32 & 64 bit), Windows 8 (32 & 64 bit), Windows 10 (32 & 64 bit)
DirectX 9.0c or higher
Latest Version
3.7.1.4512 - released on March 11, 2020.
Changelog
Fixed: Polarization format PPB1 for certain resolutions (e.g. 320x240) crashing on some specific CPUs
Fixed: Updated FilterPackage to version with fix for Y800 -> RGB8 being flipped
Fixed: Some registry settings (allowed_*) not working
Fixed: DShow applications can only select the largest dimensions for a format
Added support for IAMStreamConfig::SetFormat when the filter graph is connected already.
Download [5.14 MB EXE]