We are now receiving Jupiter photos during the September opposition. The first one was sent by French astrophotographer Fabrice Morin. The photo on the left was taken on 31.August, 2010, and the one on the right taken on 20.September, 2010.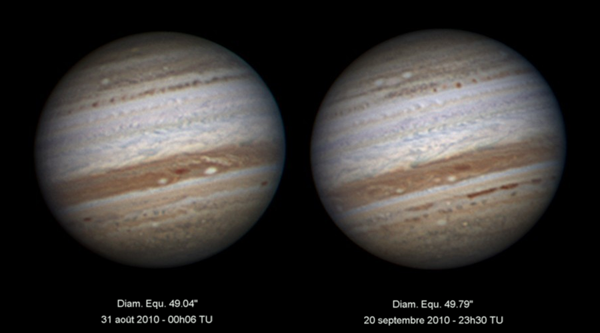 His e-mail was roughly translated as below:
Here attached two images of Jupiter, obtained on August 31 and September 20.

The image of 20 September was carried out at 2:30 right after Jupiter's closest passage to the earth. Its apparent diameter has never been greater since 1963, and will not be until 2022.

The equipments used are: a Celestron 11 with a 2x Barlow and DMK 31AU03.AS camera. The colors were recorded by using Astronomik red / green / blue filters.
Thank you Fabrice! Fabulous job!